Cet article est une traduction issue de The Black Vault,  JOHN GREENEWALD, le 8 novembre 2021.
https://www.theblackvault.com/documentarchive/unidentified-flying-objects-over-malmstrom-afb-november-1975/
Cet article est issu de The Black Vault,  JOHN GREENEWALD, le 8 novembre 2021.
Les documents suivants ont été obtenus auprès du Bureau du Secrétaire adjoint à la Défense, Bureau de la liberté d'information et de la révision de la sécurité. Ils ont été communiqués à The Black Vault en septembre 1997, dans le cadre du dossier FOIA 97-F-1677.
Il décrit de nombreux vaisseaux au-dessus de Malmstrom AFB, Montana, en novembre 1975. C'était six ans après la clôture du projet Blue Book, qui, après plus de 12 000 observations, l'armée de l'air américaine a déclaré que les OVNIs ne présentaient plus d'intérêt et ne constituaient pas une menace pour la sécurité nationale.
Voici les enregistrements montrant que les OVNIs, qui survolaient des installations sensibles, ne pouvaient pas être interceptés par plusieurs chasseurs F-106.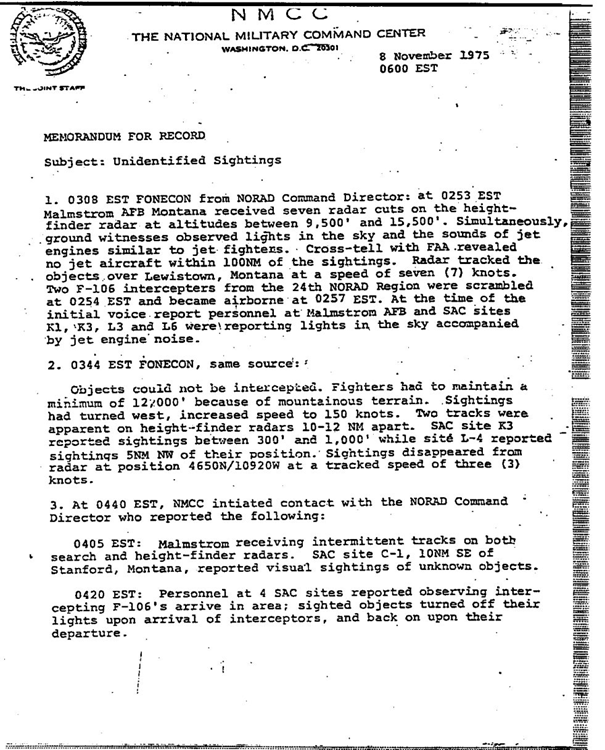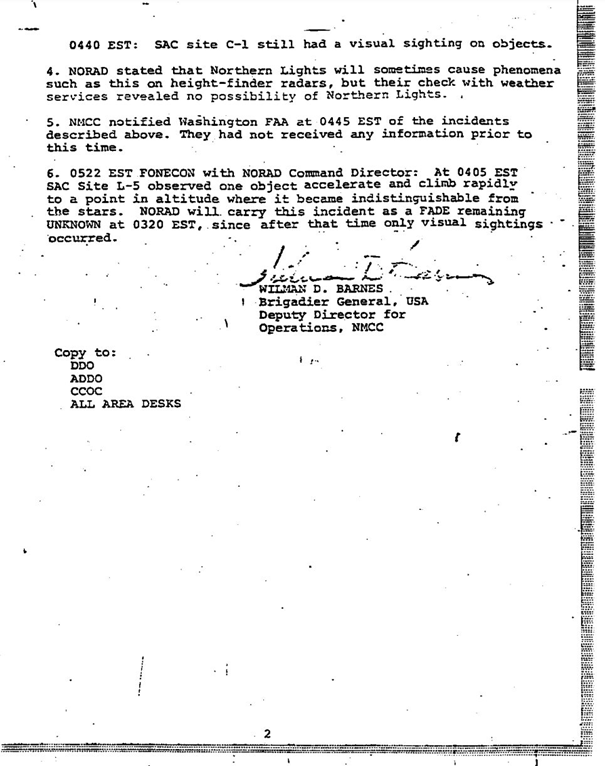 THE NATIONAL MILITARY COMMAND CENTER
WASHINGTON, 8 November 1975 -0600 EST.
MEMORANDUM FOR RECORD
Subject: Unidentified Sightings
1. 0308 EST FONECON from NORAD Command Director: at 0253 EST Malimstrom AFB Montana received seven radar cuts on the height- finder radar at altitudes between 9,500′ and 15,500′. Simultaneously, ground witnesses observed lights in the sky and the sounds of jet engines similar to jet fighters. Cross-tell with FAA revealed no jet aircraft within 1OONM of the sightings. Radar tracked the objects over Lewistown, Montana at a speed of seven (7) knots. Two F-1L intercepters from the 24th NORAD Region were scrambled at 0254 EST and became airborne at 0257 EST. At the time of the initial voice report personnel at Malmstrom AFB and SAC sites Kl, K3, L3 and L6 were reporting lights in the sky accompanied by jet engine noise.
2. 0344 EST FONECON, same source:
Objects could not be intercepted. Fighters had to maintain a minimum of 12'000′ because of mountainous terrain. Sightings had turned west, increased speed to 150 knots. 'Two tracks were apparent on height-finder radars 10-12 NM apart. SAC site K3 reported sightings between 300′ and 1,000′ while sité L-4 reported sightings 5NM NW of their position. Sightings disappeared from radar at position 4650N/10920W at a tracked speed of three (3) knots.
3. At 0440 EST, NMCC intiated contact with the NORAD Command Director who reported the following:
0405 EST: Malmstrom receiving intermittent tracks on both search and height-finder radars. SAC site C-1, 10NM SE of Stanford, Montana, reported visual sightings of unknown objects.
0420 EST: Personnel at 4 SAC sites reported observing intercepting F-106's arrive in area; sighted objects turned off their lights upon arrival of interceptors, and back on upon their departure.
0440 EST: SAC site C-1 still had a visual sighting on objects.
4. NORAD stated that Northern Lights will sometimes cause phenomena as such as this on height-finder radars, but their check with weather services revealed no possibility of Northern Lights.
5. NMCC notified Washington FAA at 0445 EST of the incidents described above. They had not received any information prior to this time.
6. 0522 EST FONECON with NORAD Command Director: At 0405 EST SAC Site L-5 observed one object accelerate and climb rapidly to a point in altitude where it became indistinguishable from the stars. NORAD will carry this incident as a FADE remaining UNKNOWN at 0320 EST, since after that time only visual sightings occurred.
WILMAN D. BARNES / Brigadier General, USA / Deputy Director for Operations, NMCC
LE CENTRE NATIONAL DE COMMANDEMENT MILITAIRE
WASHINGTON, 8 novembre 1975 -0600 EST.
MÉMORANDUM POUR LE DOSSIER
Sujet : Apparitions non identifiées
1. 0308 EST FONECON du directeur du commandement du NORAD : à 0253 EST, Malimstrom AFB Montana a reçu sept coupures radar sur le radar de recherche de hauteur à des altitudes comprises entre 9 500′ et 15 500′. Simultanément, des témoins au sol ont observé des lumières dans le ciel et des bruits de moteurs à réaction semblables à ceux de chasseurs à réaction. Le recoupement avec la FAA n'a révélé aucun avion à réaction dans un rayon de 1OONM des observations. Le radar a suivi les objets au-dessus de Lewistown, Montana à une vitesse de sept (7) nœuds. Deux intercepteurs F-1 de la 24e région du NORAD ont été envoyés en mission à 2 h 54 HNE et ont décollé à 2 h 57 HNE. Au moment du rapport vocal initial, le personnel de Malstrom AFB et des sites SAC Kl, K3, L3 et L6 signalaient des lumières dans le ciel accompagné du bruit d'un moteur à réaction.
2. 0344 EST FONECON, même source :
Les objets n'ont pas pu être interceptés. Les chasseurs ont dû maintenir un minimum de 12'000′ à cause du terrain montagneux. Les objets ont tourné vers l'ouest, la vitesse a augmenté à 150 noeuds. Deux trajectoires sont apparues sur les radars altimétriques à 10-12 NM de distance. Le site SAC K3 a rapporté des observations entre 300′ et 1'000′ tandis que le site L-4 a rapporté des observations à 5NM NW de leur position. Les observations ont disparu du radar à la position 4650N/10920W à une vitesse suivie de trois (3) nœuds.
3. À 4 h 40 HNE, le NMCC est entré en contact avec le directeur du commandement du NORAD qui a fait le rapport suivant :
0405 EST : Malstrom reçoit des traces intermittentes à la fois sur les radars de recherche et les radars altimétriques. Le site C-1 du SAC, à 10NM au sud-est de Stanford, Montana, a signalé des observations visuelles d'objets inconnus.
0420 EST : Le personnel de 4 sites SAC a signalé avoir observé des F-106 d'interception arriver dans la région ; les objets observés ont éteint leurs lumières à l'arrivée des intercepteurs, et les ont rallumées à leur départ.
0440 EST : Le site SAC C-1 a toujours une observation visuelle des objets.
4. Le NORAD a déclaré que les aurores boréales peuvent parfois provoquer des phénomènes comme celui-ci sur les radars altimétriques, mais leur vérification auprès des services météorologiques n'a révélé aucune possibilité d'aurores boréales.
5. Le NMCC a informé la FAA de Washington à 4 h 45 HNE des incidents décrits ci-dessus. Ils n'avaient reçu aucune information avant cette heure.
6. À 0522 EST, FONECON avec le directeur du commandement du NORAD : À 0405 EST, le site SAC L-5 a observé un objet qui accélérait et montait rapidement jusqu'à un point d'altitude où il devenait impossible de le distinguer des étoiles. Le NORAD enregistrera cet incident comme un FADE restant INCONNU à 0320 EST, car après cette heure, seules des observations visuelles ont eu lieu.
WILMAN D. BARNES / Général de brigade, USA / Directeur adjoint des opérations, NMCC